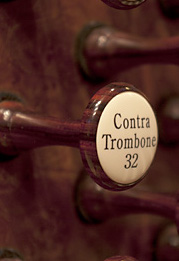 Contributors to the Organ Artists Series
A note of thanks!
We can't thank our patrons, advertisers, and co-sponsors enough for their continued generosity. They have contributed to the success of past seasons and guarantee our offerings in this and future seasons.
Please consider joining the ranks of our regular contributors. Your donation will help us continue a Pittsburgh tradition of live performances of great organ music. You can also invite a friend to join you at the next OAS concert. Inviting a friend is a very practical and enjoyable way to support the series and help us increase our audience.
Again, thanks to all who have supported the series in so many different ways. We couldn't do it without you!
Edward Alan Moore
Director, Organ Artists Series
Tuba Mirabilis ($1,000+)


The most powerful and commanding reed stop
Bombarde ($750 - $999)


A strong, loud, low-pitched reed stop
Trompette ($500-$749)


A reed stop that adds richness and dignity
Dr. David A. Billings,

CAGO
J. Barbara McKelway
Krummhorn ($250-$499)


A solo reed stop with a distinct tone
Larry Allen and Scott Bell
Donald K. Fellows
Gail M. Henry
Signe O. Mitchell,

CAGO
Edward Alan Moore
Ted and Sara Ruhle Kyle
Stephen Schaal and Andrew Eppich
Diapason ($100-$249)


The foundation sound and backbone of the organ
Alan D. Ankney
Kevin M. Clemens,

CAGO
Suzanne L. Gilliland
in memory of my parents, Dale and Elizabeth Gilliland
William Hain, Organcraft
Colleen Lissy
Robert Mayer
Dr. Jan Edward Orris
Jim and Judy Stark
Douglas Starr
The Rev. Robert W. and Joyce Moon Strobel,

AAGO
Melodia ($25-$99)


A round, rich, and mellow flute stop
Diane L. Berati
Harry & Sarah Campbell
Dr. Ellen E. Dodge
Marlene E. Gardner
Walter R. Holewa
Dave and Helen Houggy
Deborah L. Nichols
Wilberta N. Pickett,

ChM

, & John A. Pickett
Kenneth R. Rankin
Jacob M. Simon
Nancy A. Tan
Chimes (to $24)


A set of tubular bells played from the organ keyboard
Edward M. and Barbara E. Spier
Program Partners
Saint Paul Cathedral
Saint Paul Cathedral Concert Series
Shadyside Presbyterian Church
Music in a Great Space
Westminster Presbyterian Church
Music & Arts Series
St. Paul's Episcopal Church
Friends of Music Guild Concert Series